The Tour of Washington County Day 2 took racers to an early morning individual time trial, criterium in the afternoon, and a Fathers Day with some all out efforts to round out the general classifications.
The worst of it for me was a bit two-fold. I did not end up being able to finish and end up on the "results" of the stage race because of a spill I took through 90 degree, right turn to the finishing hill of the afternoon criterium. I was not riding particularly strong at that point and was thus, popped off the back. I would have been pulled out of the race in a lap or two anyway. It is just a bummer that I had to go out the way I did.
paramedic's bandaging.
How it happened: Having been popped, again, I was not around anyone and I was really just riding within my limits to continue the race until the officials would have pulled me. Having already burned matches into the red trying to hold onto the the back of the group, I was, at the point of my spill, not taking risks or looking to make my day anymore painful. That is what made this spill entirely unexpected. I was not taking turns with any amount of aggression. Just before the spill, I wasn't avoiding any debris or anything unpredictable through the turn. My wheels slid out from under me and although my left shoe immediately unclipped, my right shoe did not and my right leg was consequently pinned down to the road and the sliding over the road commenced.
"raw meat"-like, but not that bad actually.
The positives are that I didn't take anyone else out and certainly that my bike sustained no damage save a few scratches on the brake lever, handlebar tape, and right pedal. My right shoe sustained some damage, but nothing to cause a replacement beyond the buckle* holding down my top strap.
and that's where that happened.
Beyond my woes, A big shout-out goes to my Whole Wheel Velo Club teammate and damn classy rider, Andrew Shelby, for taking 6th for the overall weekend (increasing his placement with every passing stage). Although I would have liked to have had a bigger impact in his success and possible higher placing, his class and smart racing earned him his very impressive placement and I have learned a lot watching his preparation, recovery, and tenacity throughout the stage race. I look forward to continue racing with him and other WWVC cyclists.
Speaking of which, teammate Chris Gould had a somewhat uncomfortable weekend battling some sickness on this second day. He raced in the criterium, but was pulled early due to throwing up a few times prior to the event and consequently losing a lot of his energy and water. I'm sure he will bounce back soon and anticipation for his
Tour of Page County
is growing as August draws nearer (
bikereg here
).
So, although I ht the pavement, the weekend was a success and being part of it is a blessing. I'm really pulling for my form to come around and allow me to be at least a dark-horse for some results in the upcoming races next month and beyond. Also note that I am again starting to think about cyclocross and my sights are set on acquiring a bike for such events. I'm sure I can either borrow an offered teammate's bike or find one for cheap. The first season I'm into it for the thrills, spills. beer, and fun suffering throughout.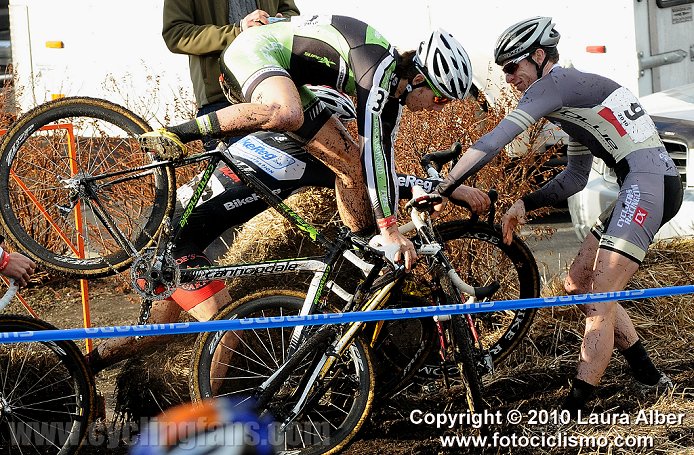 crashes will be had here too.
The weekend also had me meeting a lot of people in this well knit group of cyclists, friends and families. A weekend stage race will give much more opportunities for cyclists, family members and fans tagging along for the event. I am still trying to meet more cyclists and work my way through these events.
This road rash won't keep me from competing in a race next weekend. Thanks for reading.
*Then again, I have been searching online for replacement buckles and I am coming up at a loss. I will try emailing the company, though I know Vittoria is not known for making shoes and as my former team's sponsoring shop owner thought, they may have just put their name on some factory-made shoes and might not have much as far as company interest in these shoes. They still prove to be uncomfortable at times, though that has largely subsided this season.