Oh man am I missing out. Cyclocross is not up and coming. It is here. I really wish I had some races that I can say I did. I know a lot are in West Virginia, but at least to have done a few would be great. I would love to have a sweet cross bike, sweet cross shoes, sweet cross gear, and some sweet cross races under my belt. I envy those guys getting out there in the cold, rain, mud, and muck. I want battle scars and a battered body.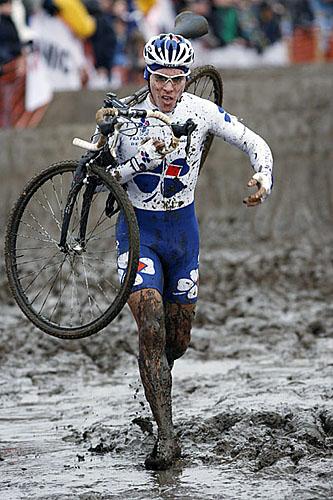 Philippe Gilbert
Even my favorite rider, Philippe Gilbert couldn't resist the lure of cyclocross. I suppose if I want to ride like Belgian cyclists, I would most certainly race their beloved sport of cyclocross.
I'm thinking about subscribing to this
Cyclocross Magazine
. Oh wow. I am reading their explanation of "Why Cyclocross," and I am sold. In fact, I already was, but it's nice to read.
I'm excited to look into shoes and other gear for next year. I will race cyclocross next year. Can't wait.